Hello all,

Please be aware that Play-asia.com has been selling fake One Piece figurines and there is vast improvement in counterfeit technology, they are now able to create fake Toei sticker with "watermark". I decided to share my story so that more people are aware of Play-asia.com history of mixing fakes with authentic product for sale.

You can identify the counterfeits from careful observation of the 3rd character on the toei sticker as well as the blurred watermark behind as shown in the picture.




My story is a pretty long one, for those who do not have the time to read through this post, know this:

I purchased 2 x Banpresto Super DX Ace (Japan) from Play-asia.com on 20th March 2012 after repeatedly verifying with Play-asia.com that the item comes direct from Japan and is not a counterfeit. When item arrive, quality is subpar and decided to file a dispute claim with Paypal. I then brought it to a 3rd party dealer to have it appraised and confirmed as fake and was finally awarded a refund by Paypal on 9th April 2012.

The full account of the story with all the details are below:

For those OP collectors out there, you should be aware the previous release of Super DX ace was marred by a high quality fake from hong kong and I was unfortunate enough to be conned into getting a fake one and never manage to find a real one since. On 20th March 2012, I received a product notification on the sale of Banpresto Super DX Ace by Play-asia.com, naturally I was super excited and immediately bought 2 x Super DX Ace from them without suspecting anything as I had numerous transaction with them.

I then sms my OP collector friends and was told by one of them that Play-asia.com had a history of selling fakes of the Super DX Ace. I then proceeded to search online on this incident and came across numerous account of this. Of course I also came across the official statement from Play-asia.com here that stated that they conducted an investigation and confirm that they NEVER sold fakes of the product before. I was still suspicious since there are a few angry post on this so I proceeded to drop a query on facebook. That query did not get any reply (You guys can scroll through their fb page to take a look). I then email their customer support to check. A customer support officer, Ash, replied to state again that they NEVER sold fake figurines before as claimed by their official statement and verified again that the product I just purchase is from Japan and is confirm authentic. Since I never had a bad transaction from them before and I paid through paypal which offer some form of protection, I replied to ask them to proceed with the transaction.

The item arrived in Singapore on 28th March 2012. I know there is a possibility that it was a fake and was extra cautious about it. I decided to film the unboxing sequence to capture any deviation and possibility of fake. You can take a look at the video here(sorry about the low quality, taken with iphone 3GS).

I saw the watermark on the toei sticker and was initially quite happy with it but when I open the figurine and compare it to the fake I unfortunately bought previously, it has the same flaws and it seems like what I suspected became true. I open a dispute in Paypal and the customer service replied with the following:


Dear -,

We are informed by paypal that you have opened a dispute with your order
#25190092. You mentioned to paypal that we sent you a fake figure.

I would like to tell you the whole story. For the One Piece Super DX
Pre-Painted Figure: Portgas D Ace (Banpresto Version), it was released in
1st December 2010. We have received 150pcs stock from our Japan supplier in
the first batch of stock. We sold all this 100pcs to different customers
until May 2010 without any complaint. We have re-stock 12pcs of this figure
from a local supplier in March. We mixed up the stock of both the original
150pcs and re-stocked 12pcs for sale. Then, we start to get feedback from
customer that the figure is fake in May.

After investigation, we found that the product from local supplier are in
sub-standard. The back side of the sticker is white. For the stock from
Japan supplier, the stickers are authentic. The back side of the sticker
has logo. Once we discovered that small amount of stock has problem, we
stop selling the product at all. We accept the return of product at that
time since we cannot judge which customer has received the Hong Kong stock.


Recently, we are doing stock checking. We found that there still one
unopened factory sealed box of 12 pcs figure which is shipped from our
Japan supplier. Thus, we put the item for sale again. We have double check
each sticker and make sure that it is authentic before we shipped out the
item. Of course, we wouldn't opened the box and check details on the figure
inside. No customer would like to receive a opened product.

We can say that there is no big different between the authentic figure from
Japan and substandard figure from Hong Kong. So, you would think that the
figure we send to you is the same as the fake product that you have on
hand. Therefore, we would identity the authenticity with the sticker. There
is no way for us or the supplier to get authenticity stickers to put onto a
fake item. The authenticity stickers are unobtainable except by tearing
off one from another real figure. No one would tear the authentic sticker
from a real figure to stick on another fake item. You must also be a figure
collector so you should understand how important authenticity stickers
are.

We confirmed that the figure we send to you is originally imported from a
Japanese supplier; the sticker is authentic. It is meaningless to send the
figure to Banpresto to verify. If we proved that the figure is authentic,
you can also argue that the figure that we send for verification is not the
figure that we sent to you. We will lose in this case anyway. If you don't
want to accept the figure, you can return to us for a full refund just to
make you happy.

Once we received these items we will offer you the refund and then you can
close the paypal dispute.

If you have any further questions, please do not hesitate to ask.

Best regards,

Kasel
Play-Asia.com
In summary, Play-asia.com has sold fakes to customer before although they claim it was unintentional and decided to conceal this fact in their official statement. The simple fact that they have fake product in their inventory would have stop me from purchasing from them since they could just paste real toei sticker on these fake product and pass it off to unsuspecting customer which I initially thought was what happen to me.
Paypal then advise me to obtain a 3rd party report stating that the product is a fake and only then will I be able to claim a refund. I brought my figurine to a reputable dealer in Singapore, LaTendo, and thankfully they had a authentic Super DX Ace in their shop to do comparison with. Their staff pointed out that the sticker though very similar is still not correct. They brought a number of figurines with Toei Sticker no. 7 to compare and even peel part of it to look at the watermark. It then became obvious the product from Play-asia.com had a counterfeit sticker. We then compared the box and figurines and you can spot the differences in the pictures I attached below.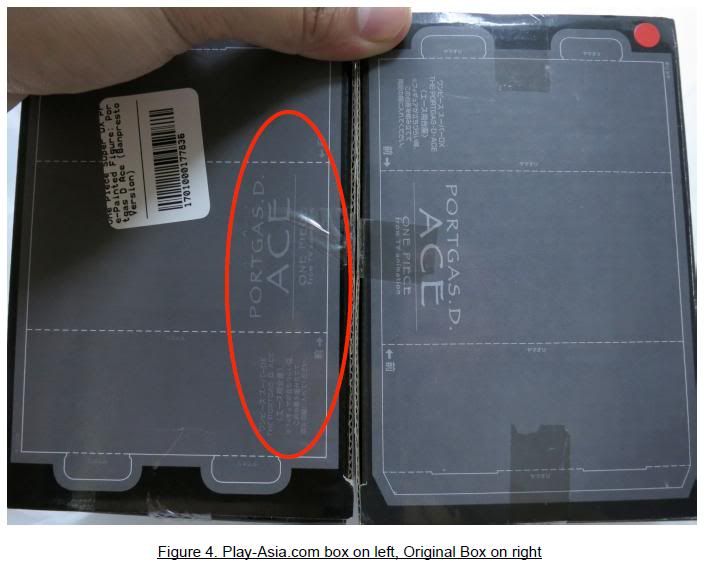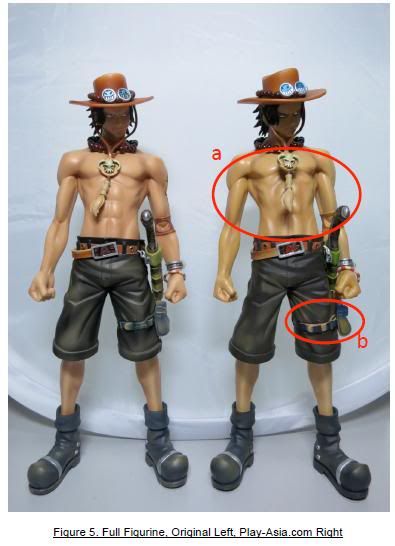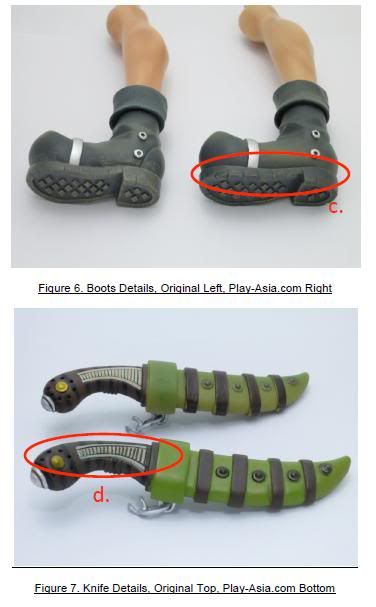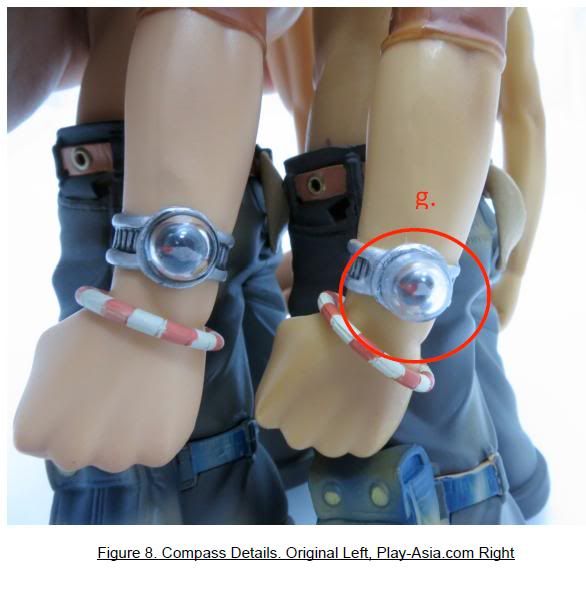 They generously agreed to create the report and put their name at stake to certify the product from Play-asia.com is fake. They also agreed to loan me the real Ace home so I can film HD comparison video which you may view here:

Banpresto Super DX Ace Real vs Play-asia.com Fake part 1
Banpresto Super DX Ace Real vs Play-asia.com Fake part 2
Banpresto Super DX Ace Real vs Play-asia.com Fake part 2

I submitted the report to Paypal and finally was vindicated and awarded the refund on 9th April 2012. I actually email Play-asia.com with all these evidence hoping they can admit their mistake but haven heard anything since.